For sale:
Outback Touring Bike, lugged steel, 650b wheels
Sold as a complete bike ready to ride: $5870 (parts list below), or...
...or, sold as a frame, fork, front & rear racks, fenders & lights (internally wired), head set, custom frame bag (not shown here): $4390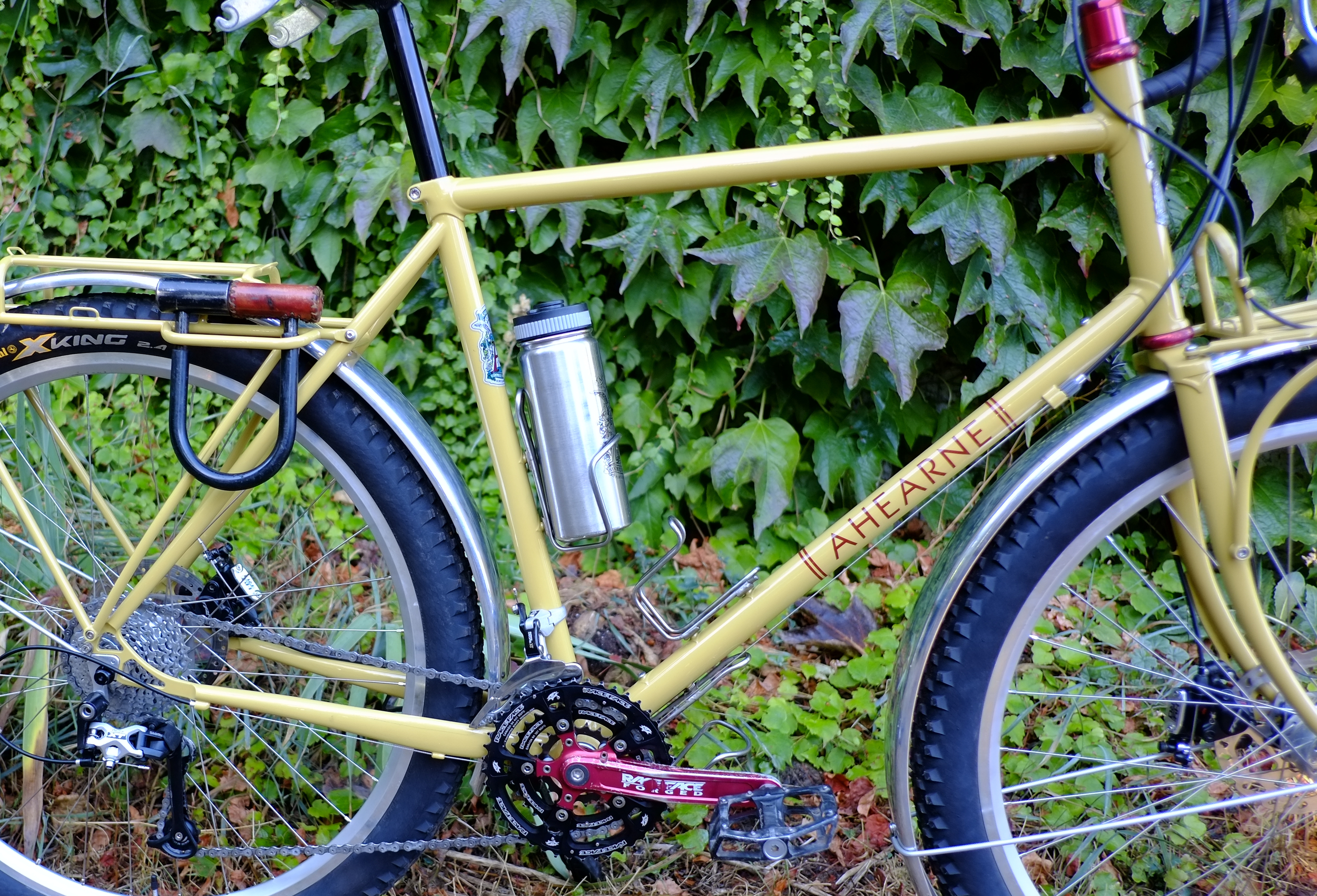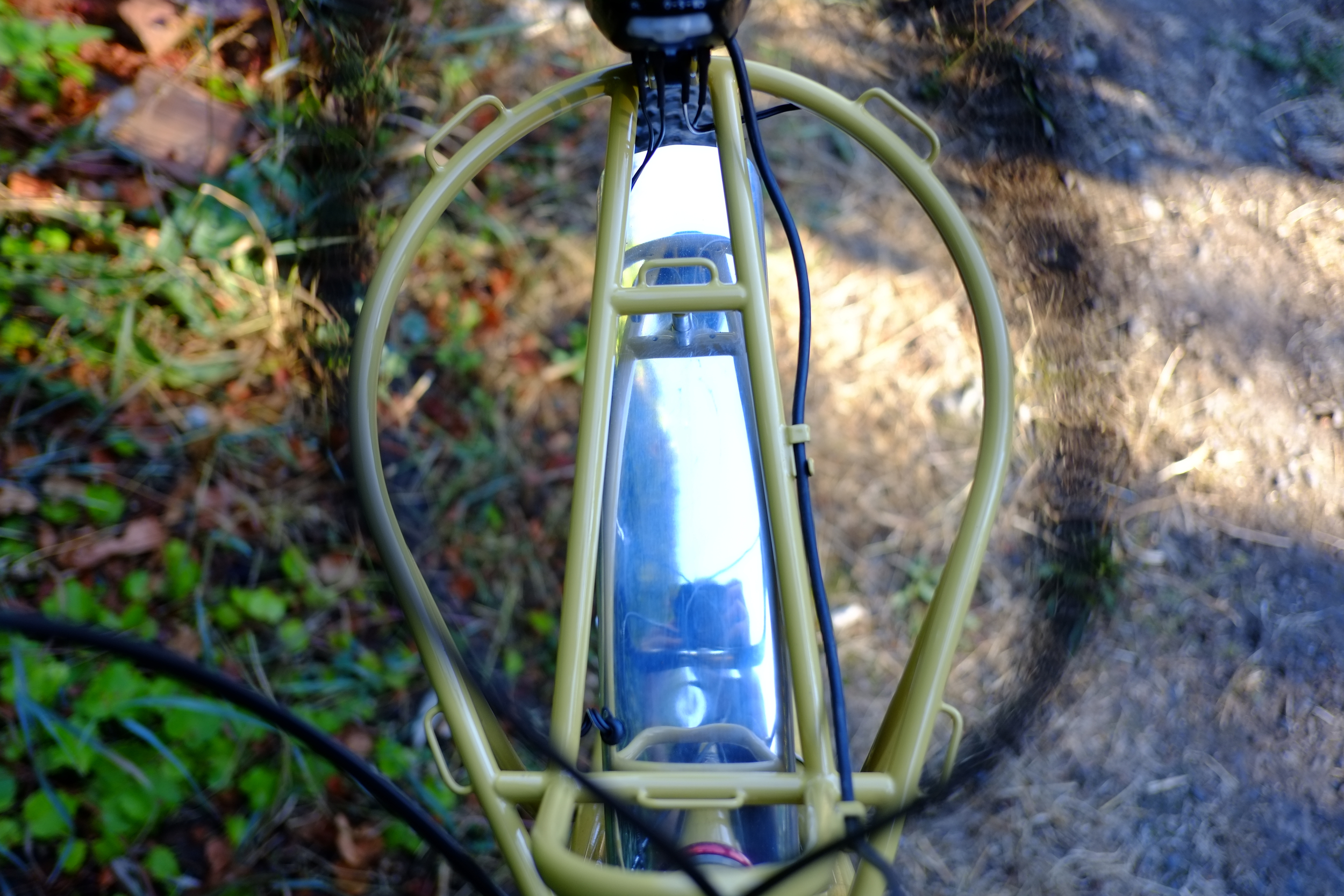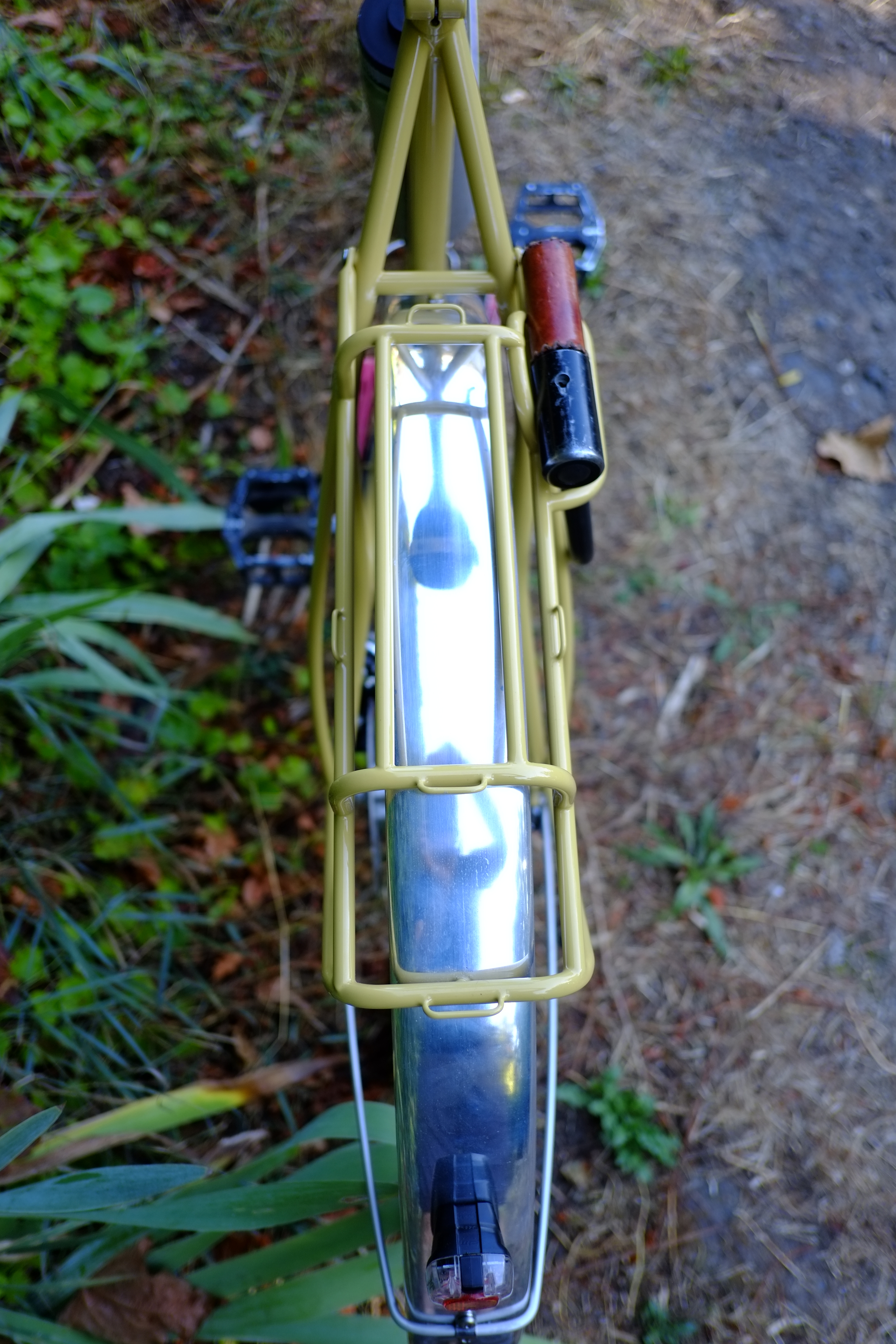 The Oregon Outback was the testing ground for this bike. As a prototype it was ridden with a rattle-can clear coat to give basic rust protection, so that additions and modifications would be possible. After going the distance and tweaking the design, we have here the finished product. Just back from the powder coater, this is a fresh finish on a bike that has gone the distance, seen the dirt, passed the test and now it's time to give it a home. First the specs, then the details.
Top tube length: 57.5 cm (effective length), diameter 28.6 mm, 7 degree slope
Seat tube: 60 cm (effective), 53.5 cm (actual), 73 degrees, diameter 28.6 mm
Head tube length: 220 mm (includes 25 mm extension), 71 degrees, 31.8 mm diameter
Bottom bracket drop: 65 mm
Chain stay length: 450 mm
Rear axle spacing: 135 mm
Fork length: 390 mm, rake 60 mm, trail 48 mm
Parts List:
This bike has fewer than 1000 miles on it, and the parts on it have been used at least that much. Some parts are brand new since the bike was powder coated, and some were used before being put on the bike. Either case will be noted. All the parts are in excellent working order, and have many miles and years of life remaining in them.
Wheels: Velocity Dyad rims, Schmidt SON20 front generator hub, Paul Components rear hub (no longer made), DT Swiss spokes, hand laced, Continental X-King tires, 27.5 x 2.4"
Drive Train: Race Face cranks anodized red (awesome!) (older, used, square taper still in great condition), Race Face chain rings (fewer than 1000 miles) 44/32/20 T; Shimano XT triple front derailleur for 28.6 seat post (new-old stock), Shimano XT rear derailleur, long cage, XT 9 spd. cassette 11/34T, Shimano HG chain; Shimano UN55 bottom bracket
Brakes: TRP HY/RD hydraulic calipers, cable actuated (awesome function for road levers)
Retroshift brake lever & shifter combination, Microshift front shifter, Shimano 9 spd. indexed rear shifter
Honjo H95 super wide and flat fenders, specially ordered and brought into the USA for the Outback 650b bikes (brand new, with new light wiring)
Paul Components "Tall n' Handsome" seat post, black, 27.2 mm
Front light: Busch & Muller Luxos IQ2 light with handlebar mounted switch (on/off and high/low beam) with USB port for charging devices off hub
Rear Light: B & M Secula Plus, fender mounted, wired internally through the frame & fenders
Chris King "two-nut" head set, anodized red (brand new)
Nitto Technomic stem, 100 mm quill style
Nitto Noodle handlebar, 44 cm wide
Pedals & Saddle not included in sale
Thoughts and Ideas:
This bicycle is the culmination of many years of building touring bikes, trying them out, refining the ideas, re-building them, and again and so forth. I've experimented with weight distribution, wheel and tire size, geometry, particularly the front end geometry, looking for that balance and sweet spot between handling and load bearing. There are merits to many different styles, and in the end I believe that personal preference is the final decider. That's why there is not one, final, end-all style touring bike that everyone emulates. We all tour with different stuff and want to go to different places, covering all sorts of terrain.
The Outback 650b is my most recent revision of the touring genre, and I like it on most every level. It's built to go just about anywhere, it climbs well, feels good on the long flat stretches, handles well through corners, both loaded and without. The riding position is comfortable for many hours of saddle time. I like the way the weight is carried and how it feels when loaded. And, for me it's also important to have a bike that will serve me on a day-to-day basis for year-round commuting, which this bike does. Also, the aesthetic, with the simplicity of Henry James lugs, the threaded steerer and quill stem, the standard oversize tubing and the fat tires -- it reminds me of early mountain bikes, but with top quality parts for functionality and durability. I feel like this bike strikes a great balance between aesthetic and function. It's going to serve someone well for a lifetime.
Please send all inquiries to info(at)ahearnecycles.com